Building Collapse Damage Claims
We are your building collapse damage claims experts, serving New Jersey, Pennsylvania and Delaware.
A building collapse can happen suddenly due to uneven pressure of a structural weakness. Moreover, winter storms bring snow and ice that can accumulate onto your roof until your roof or porch can no longer support it. Even a substantial collection of rainwater on your roof could lead to roof damage and even collapse. Once this occurs, your building may sustain a partial or full collapse.
Your homeowner's insurance policy may state certain exclusions or limitations related to building collapse damage claims. Therefore, you should contact us immediately after a building collapse incident.
Once you hire Community Public Adjusters, we will work on your behalf, and we bring superior experience in insurance claim management, specifically, in building collapse damage claims. We are fluent in your insurance policy coverage details and our public adjusters will properly examine and document your building collapse damage and negotiate with the insurance company to secure the maximum possible settlement.
How Can a Public Adjuster Help Me with My Building Collapse Damage Claim?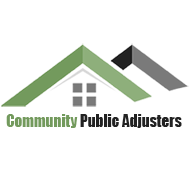 Public adjusters are hired by commercial or residential property owners to represent them in their involvement with their insurance provider. Our main goal is to get the homeowner or business owner paid every single dollar you are owed under your insurance policy. There are no upfront fees to use our public adjusting services. We work on a contingency basis and our fees are based solely on a % of the claim payments we obtain from your insurance company. Therefore, we are very motivated to bring you the maximum settlement amount possible under your current policy.
File Your Building Collapse Claim Immediately
Community Public Adjusters recommends contacting a local public adjuster before you communicate with your insurance company. When directly communicating with your insurance company, make sure you provide details of the building collapse damage incident, including the date of the damage, location of the collapse, list of damaged items, and general condition of your home or business property. The building collapse damage claims process is lengthy and tedious. Therefore, it is important to retain a public adjuster to handle all aspects of your building collapse damage claims from the beginning. Even if you are in contact with your insurance provider, you may still need to take on some initial expenses yourself. The expenses you may incur immediately after a building collapse damage claim can consist of temporary housing or relocating. Therefore, it's extremely important to contact Community Public Adjusters as soon as a building collapse occurs on your property. Community Public Adjusters will minimize your out of pocket expense and request compensation from the insurance company to maintain your lifestyle and/or keep your business running.
Other Types of Property Damage Claims
Many times, Insurance companies will initially deny your building collapse damage claim. We have many years of building collapse damage claims experience and have helped property owners across Pennsylvania and New Jersey get the maximum insurance settlement for their insurance claim.
Community Public Adjusters can handle any type of claim including the flowing types of claims.
Fire and Smoke Damage Claims
Fire losses are usually the most damaging and dangerous type of loss that can happen. Fire and smoke damage require immediate decisions from homeowners or business owners. A public adjuster should be hired immediately after the fire. Read more about fire and smoke damage claims.
Flood Damage Claims
Whether it's the rainy season or dry season, many residential and commercial properties are one storm away from flood damage. Read more about flood damage claims.
Snow and Ice Damage Claims
When the temperature starts falling, and rain and snow arrive, it can cause ice to form which pushes on the external infrastructure. The huge amount of melting of ice on the roof can also cause water to permeate under the roof covering. Read more about snow and ice damage claims.
Theft and Vandalism Damage Claims
Theft or vandalism can be very costly to homeowners and business owners and detailed reports are needed to verify an event happened. Read more about theft and vandalism damage claims.
Water Damage Claims
Water damage is one of the most common types of property insurance claims. Water will always find the path of least resistance. An extreme amount of water can destroy your buildings foundation. Read more about water damage claims.
Wind and Hail Damage Claims
When a home or building is subjected to wind and hail, the damage can be very costly. Getting the money needed to repair the damaged is challenging. Read more about wind and hail damage claims.
Claim types can also include
• Burst Pipes
• Frozen Pipes
• All Plumbing Leaks
• Toilet Overflow
• Roof Leaks
• Blown Off Shingles & Siding
Have a building collapse damage claim? Submit it here
How Does the Claim Process Work?
The process starts by contacting Community Public Adjusters at 800-204-2463 or contact us using our online form. Next, we will review your claim and contact you shortly so we can proceed with your damage loss assessment.
The Claims Process
• We inspect the damage site and conduct a comprehensive evaluation of your property.
• Next, we gather photographic evidence and use industry experts to examine your loss.
• Next, we fully document the extent of the damage.
• Next, we submit your claim, which is backed by scientific evidence and expert testimony.
• Finally, we negotiate with your insurance company to attain the best possible settlement.
Why Trust Community Public Adjusters with Your building collapse damage claim
We are experts in building collapse damage claims
We have helped many clients get money for building collapse damage
We have Over 150 years of combined public Adjusting experience
Our public adjusters are licensed and bonded in Pennsylvania and New Jersey
We are members of various local and national public adjuster associations
We understand all aspects of the tedious building collapse damage claims process
Community Public Adjusters Testimonials
"We are very pleased with Community Public Adjusters regarding our recent water damage claim. They answered all our questions and did a great job inspecting and documenting the damage, even finding more damage that we never noticed."
"We could not be happier with Community Public Adjusters after we hired them to handle our fire damage claim. Their assistance was invaluable, they helped our family get thru a very serious and stressful time."
"I had a great experience with Community Public Adjusters. The claim was handled extremely fast and the insurance settlement was above my expectations. I would recommend Community Public Adjusters with no hesitation."
Community Public Adjusters - Top FAQ
My business has received substantial damage due to a fire. Should I purchase new equipment to get the business backup?
Depending on your policy, you could move certain expenses, such as away from Business Personal Property and over to Business Interruption. Our public adjusters can help you with such situations and can also advise you throughout the entire claims process while keeping your business operating.
Why Should I Work with a Public Adjuster over an Attorney?
Public adjusters who are on your side, are critical when there is an insurance dispute. Many times, an attorney will hire us to do that work if someone goes directly to them.
What areas do you service?
Community Public adjusters has a presence throughout the Tri-State area and beyond.
Service areas include:
Philadelphia County
Chester County
Delaware County
Montgomery County
Burlington County
Atlantic County
Camden County
Ocean County
Buck County, Pa, locations include
Southampton, Pa
Warminster, Pa
Bensalem, Pa
Doylestown, Pa
Yardley, PA
Newtown, Pa
New Jersey locations include
Atco, Nj
Trenton, Nj
Cherry Hill, Nj
Atlantic City, Nj
Brick, Nj
How is Community Public Adjusters Paid?
Community Public Adjusters is compensated by a small % of the claim, which is offset by the higher insurance settlement we obtain.
What Types of losses can Community Public Adjusters help me with?
Community Public adjusters has experienced with many types of property losses including:
Catastrophic Damage
All Plumbing Leaks
Blown Off Shingles & Siding
Burst Pipes
Frozen Pipes
Roof Leaks
Toilet Overflow
Does Community Public Adjusters make the repairs to my property?
No, you must contact a general or specialized contractor of your choice for the repairs. If you can't find a contractor, Community Public Adjusters can locate on for you.
Building Collapse Damage Claims | New Jersey, Pennsylvania, Delaware
Submit a Claim or Call Community Public Adjusters Today at 1-800-204-2463
We work hard for YOU to ensure you get the highest possible settlement | Email Us
Our service area includes the South Jersey area, including Gloucester County, Camden County, Atlantic County, Cumberland County, Salem County, and the greater Philadelphia, Pennsylvania area
We are available 24x7 for you
Call Us Now 1-800-204-2463